Karen's Best Buttermilk Biscuit
Annacia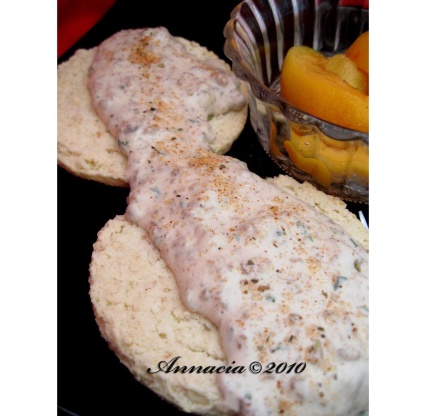 A moist tender bisciut inside, with a golden buttery crunch outside. After much searching for the holy grail of southern cooking, (a great buttermilk biscuit) I developed this recipe that I am very proud of. It is blending of the qualities I wanted in a bisuit. Cruchy, tender, buttermik tang, and hearty enough to stand up to breakfast gravy and moist enough to serve with chicken and dumplings. Enjoy!

Great biscuits!. I cut the recipe to a 1 cup of flour amount and got 2 *huge* 3 1/3 inch biscuits. I could barely manage to eat one with veggie sausage gravy, lol. As good as they are I don't think I'll make them again unless it's for company because, to be honest, I'm not really sure that they are worth the extra fat content. The butter (used twice), shortening are sat fat and the cholesterol from the whole egg do add up. I mean, over 400 calories for one biscuit (a 2 inch one) is 1/3 of my allowed calorie intake per day. If you don't have food limitations then by all means enjoy these to the max but for me I've shot most of my days allotment for Sunday breakfast. My choice for today so I'm sure complaining, just something to think about. Made for PAC. Spring '10.
Preheat oven to 390 degrees.
In large bowl wisk together flour, baking powder, baking soda and salt.
In medium bowl wisk buttermilk, yogurt and egg.
On a chilled cutting board, cut 1 stick of butter into 1/4 inch pieces using knife blade only to move pieces around while cutting.
Add to flour mixture, toss lightly with finger tips.
Add shortening to flour mixture, dropping a 1/2 teaspoon at a time.
Rub butter and shortening into flour mixture, using fingertips only-so heat from hands does not melt the butter. Mix until it resembles course crumbs.
Add buttermilk mixture to flour mixture. Stir just until evenly moistened.
Turn out on floured board. Sprinkle a little flour on top.
Fold dough in half- 5 times, shaping dough into a rectangle as you fold.
Pat out till 1 3/4 inches thick.
Cut 6 biscuits into 2 inch rounds.
Gather left over pieces of dough and shape into same size biscuit.
Place biscuits on large ungreased baking sheet. Space 2 inches apart.
Bake 17-18 minutes, brushing with melted butter the last 2 minutes.
Place baked biscuits under broiler 1 minute.
Serve warm.