Kappa Maki (Cucumber Sushi)
Ingy1171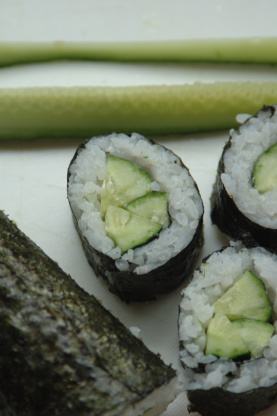 Very quick and easy -- since I've lived in Japan I make this almost daily.

I am cutting raw fish out of my diet which i find hard. This really helped my craving for sushi! Thank you so much, it worked great and was beatiful. Also, i dit not have avocado and i just love cucumber. Thank you so much for postin, this really made my day!
Lay sheet of nori on bamboo mat.
Cover nori with layer of sushi rice, spreading rice about 1/8-1/4 inch thick.
Lay long strips of cucumber on center of rice.
Roll into long sushi roll using the bamboo mat to aid (it takes a little getting used to, but it's fairly easy).
Cut roll into smaller pieces using sharp knife -- serve with soy sauce.