Kao Pad (Thai-Style Fried Rice)
PanNan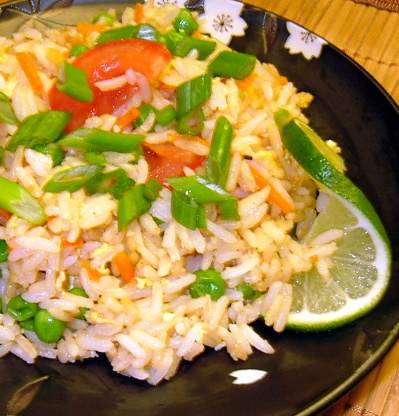 From Sundays at Moosewood.
Delicious! I made 1/2 the recipe and had more than enough for the 2 of us. To make a full meal, I marinated chicken breast chunks in soy sauce and stir-fried it before adding the veggies. I used 2 of the little chili sauce packets from our favorite take-out restaurant and that was the perfect heat for me. It seemed to be lacking in salt so I added quite a bit more soy sauce. Spice-head DH added more chili sauce to his. While maybe not authentic, I topped it off with minced cilantro and a few peanuts for crunch. Thanks for sharing this easy and tasty recipe.
Choose 3-4 of the following to equal 2 1/2 cups

2 1⁄2 cups diced carrots or 2 1⁄2 cups green peas or 2 1⁄2 cups green beans, sliced diagonally in 1-inch pieces or 2 1⁄2 cups bell peppers, cut into short strips or 2 1⁄2 cups bean sprouts, blanched for 5 seconds, cooled and drained

Remaining Ingredients

1⁄4 cup vegetable oil
1⁄2 tablespoon fresh gingerroot, minced

2

tablespoons garlic cloves, minced

6

cups cooked rice (short grain)

2

eggs, lightly beaten

1

cup fresh tomato, chopped

2

tablespoons thai sriraja chili sauce (or other hot chili paste)

2

tablespoons light soy sauce
1⁄2 lime, juice of
1⁄2 lime, cut into thin wedges
scallion, cut on diagonal
Choose and prepare vegetables. Select a combination with a variety of colors.
In a wok, heat the oil and stir fry the ginger and garlic until golden.
Remove them with a slotted spoon and save for later.
In the same oil, stir-fry the vegetables until just cooked. Add the harder ones (like carrots) first, and the tender ones (like sprouts) last.
Remove the vegetables from the wok and set aside.
Add the rice to the wok and heat thoroughly.
With your stirring spoon, make a hole in the center of the rice, down to the wok and put in the eggs.
Stir until they are pretty well set before you mix them into the rice. The more you cook the eggs before stirring them into the rice, the drier the dish will be.
Add the tomatoes, the reserved ginger and garlic and the stir-fried vegetables.
Finally, mix in the chili sauce, soy sauce and lime juice.
For serving, top each serving with thin slices of scallions. Put thin slices of lime on the side.