Kansiyé - Traditional Recipe from Guinea (West Africa)
Rita1652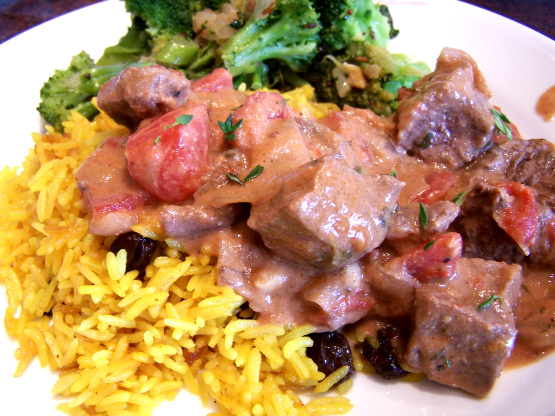 Kansiyé is a stew which is serve with rice. This is a very traditional dish in Guinea & is easy to make. Posted for ZWT 4.

Delicious. The flavors were awesome. The peanut butter blends in perfectly with the spices. I too added less water and used diced tomotoes. I seasoned my meat overnight with thyme, ground cloves, and meat tenderizer. I used the shoulder cut of lamb and cut it into cubes myself.
Brown meat in oil in 10-inch frying pan.
Add onion, salt, pepper, thyme, garlic, parsley and clove.
Combine tomato sauce and 1 cup water, add to meat mixture and stir well. Dilute peanut butter in remaining cup of water and add to mixture.
Cook over medium heat for 1 hour, or until meat is tender. Serve hot over the cooked rice.