Kansas Girl's French Dip Sandwiches
Nimz1466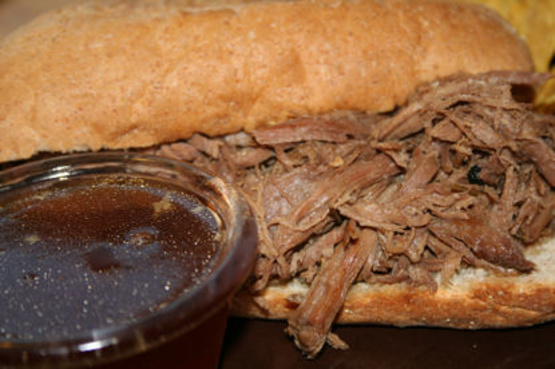 These are the BEST homemade french dips I have ever tasted! I find I am disappointed when I order them at restaurants. They are tender and have a wonderful flavor. I must give credit to Kansas Girl from the old message boards at Food Network for this recipe. Thanks Kansas Girl wherever you are! (Just so you know, I am guessing on the serving size.)
Place, the trimmed of fat, roast in the crock pot.
In a separate bowl, COMBINE: Soy sauce, bouillon cube or the Better Than Broth, bay leaf, peppercorns, rosemary, thyme, and garlic powder.
Pour this broth you just mixed up over the roast.
Add water to the crock pot until it is almost covered.
Cook covered on low heat for at least 7 to 8 hours or until the roast is very tender.
Remove the roast, reserving the broth.
Remove the bay leaf from the broth and toss.
You can either shred the roast or just slice it thinly. If slicing, slice against the grain for tenderness.
Layer the roast in the rolls, as much roast or as little as you want. Sometimes I tear some of the center of the roll out so it's not too thick.
Serve the reserved broth for dipping your sandwich inches.
Just a note: You might have to tweak some of these seasonings to your taste. We didn't like the rosemary at first, so I went lighter on it, now we love it. This recipe is super easy and delish!