Kansas City Smokehouse Beans
lazyme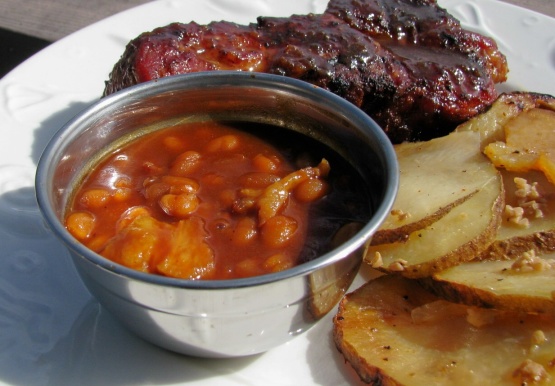 Kansas City is famous for their BBQ and the Smokehouse Restaurant is a popular place to go. My sister-in-law has a recipe for beans that she calls "Smokehouse Beans" that taste just like the restaurant beans. I make them for large gatherings or half the recipe for the family. Enjoy!

Top Review by rwp49
These beans are excellent, cook them in the oven or on the smoker, let them cook till almost all juice is gone. Fantastic the next day, hot or cold. To the people who are complaining about this is not a perfect replica because the recipe doesn't include burnt ends, just put them in yours. Thank-you for sharing. Love these.
In frying pan, cook bacon to remove the grease, until tender, not crisp.
In large roasting pan or crock pot combine beans with their liquid, bacon, and the rest of the ingredients.
For roasting pan, bake uncovered in oven at 325 for 60 - 70 minutes. For crockpot, cook on low for 6 to 8 hours.