Nimz1466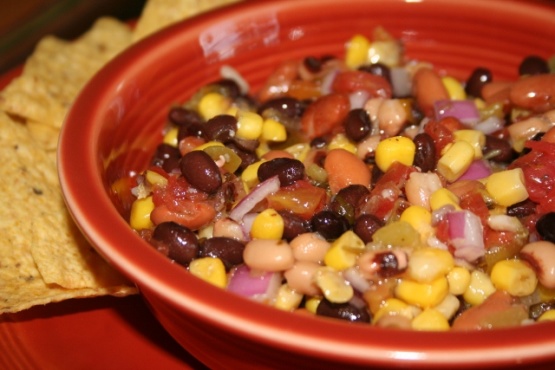 A compilation of a couple of recipes and a twist of my own. Very simple and oh, so good. Minimal chopping. Hope you like it as much as we do.

OMG this is so good. All of the flavors go so well together and so easy to put together. I let mine marinade overnight as directed and was very pleased with the results. This would be great to take to potlucks. I will probably only used about 1/2 the sugar next time and see if that works. Just a little on the sweet side for DH. I did use splenda and that seemed to work well for us. Thanks for sharing. Made for Spring PAC 2011
In saucepan, combine vinegar, oil, water, sugar, salt and pepper. Bring to a boil to dissolve sugar. Cool to room temperature Stir in cumin and red pepper flakes. Combine remaining ingredients in a bowl, pour dressing over and mix well. Cover and referigerate overnight. Serve with tortilla chips.