diner524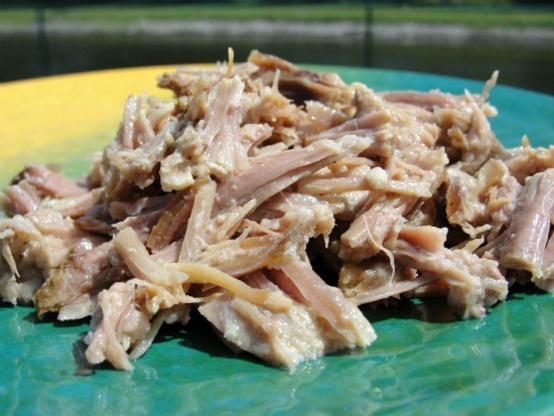 Posted for ZWT7- The Pacific Islands. A Hawaiian recipe I found on gohawaii.com.
OMG (or Oh My Goodness)!! This is so good!!! This is so juicy and tender and so easy to shred!! I just boston butt roast, I make it all the time as just a roast, but we really enjoyed it made this way and after the photo, we added some BBQ sauce for a wonderful meal!!! Thanks so much for sharing a new way to make this roast. Also want to add for anybody wanting to make this in the US, call your local Asian Store, they probably have the leaves, but they are frozen. I really didn't notice much flavor change, but it kept the meat nice and moist/juicy. Thanks for sharing the recipe and made for ZWT 7.
Rinse pork with cold water and place in a medium roasting pan. Rub hawaiian salt on pork and add water. Cover pork with ti leaves and cover roasting pan with foil. Bake at 350* for 2-3 hours, or until meat is soft. Remove foil and ti leaves, debone and shred pork; add more salt if needed for taste.