MM4L8320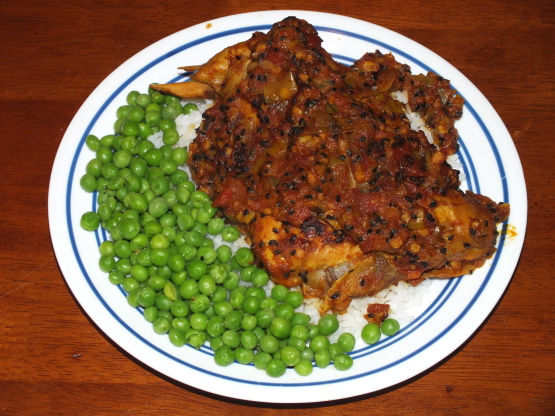 I love every recipe from Vij's. I have not tried this one yet but it looked delicious. I reduced the amount of ghee from 5tbsp to 2 1/2. He also uses chicken thighs however, we prefer chicken breats.
I was surprised at how easy this recipe was considering some of the other Vij recipes are very time consuming. I had a change tomatoes to canned ones as our fresh were terrible. I replaced both the tomatoes & the tomato paste with crushed tomatoes. Because of this, I omitted the salt. I used chicken breasts in this recipe, but the Vij recipe actually calls for chicken thighs, which is what I will use next time, the breasts didn't seem to cook as nicely in the sauce. Thanks for posting this, it saves us 2 ferry rides & 6 hours of travel time, I can now make my own Kalonji chicken at home. note: Kalonji spice is also called "nigella" or onion seed. I had a hard time finding it until I looked in the stores for onion seed.
Heat oil in a wok or large deep skillet over medium heat. Add kalonji seeds and when they begin to sizzle add cumin seeds and allow both to sizzle for 45 seconds. (Don't let the cumin burn.).
Reduce heat and add onions. Saute for 10 minutes or until golden. Add garlic. Cook until garlic is golden, then add ginger, tomatoes and tomato paste. Stir well. Add salt, turmeric, cayenne and garam masala. Cook until oil separates from sauce, about 5 minutes.
Add chicken pieces and cook, uncovered, on medium heat for about 10 minutes, stirring occasionally. If the chicken or the sauce is burning, add 1/2 cup/125mL water. Cover and cook for 20 minutes or until chicken is thoroughly cooked. Stir in cilantro.