Bergy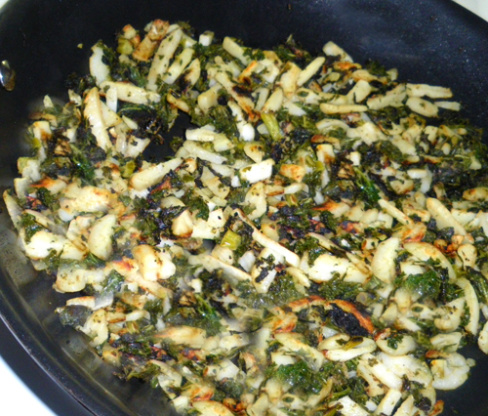 From Eating Well magazine, this can be served as a side dish with a steak or pork chops or set a poached egg on top for a hearty breakfast or brunch. A 1- to 1 1/2-pound bunch of kale yields 16 to 24 cups of chopped leaves.When preparing kale for this hash, remove the tough ribs, chop or tear the kale as directed, then wash it--allowing some water to cling to the leaves. The moisture helps steam the kale during the first stages of cooking. Fresh, partially cooked, shredded potatoes for hash browns can be found in the refrigerated produce section and sometimes in the dairy section of most supermarkets. Alternatively, boil potatoes until they can just be pierced with a fork but are not completely tender. Let cool slightly, then shred.

This was oh so good! I skipped Step #1 completely. We don't own a microwave besides. It really isn't necessary to wilt the kale first. I dumped everything in a bowl, stirred together and cooked for about 10-15 minutes on medium heat in olive oil. Used organic lacinto/dinosaur kale and Bubbie's brand horseradish. Regular yellow onion subbed for shallots and I used 1/2 onion. A spatula was used to flatten the mixture as it browned. This was surprisingly tasty! To serve: poached egg on top and a squirt of Marie Sharp's hot sauce and a simple side of roasted whole carrots. Yum! Made for Best of 2012 and will be added to my cookbook Best of 2013! Thank you!
Place kale in a large microwave-safe bowl, cover and microwave until wilted, about 3 minutes. Drain, cool slightly, and finely chop.
Meanwhile, mix horseradish, shallot, pepper and salt in a large bowl. Add the chopped kale and potatoes; stir to combine.
Heat oil in a large nonstick skillet over medium heat. Add the kale mixture, spread into an even layer and cook, stirring every 3 to 4 minutes and returning the mixture to an even layer, until the potatoes begin to turn golden brown and crisp, 12 to 15 minutes total.