Boomette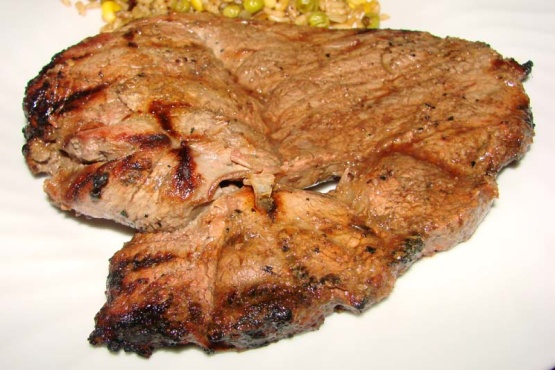 Used this on the tenderloin of a trophy elk, marinated for 24 hours, and it succeeded beyond all expectations - superb! From "Jim Zumbo's Amazing Venison Recipes". Generally, best to serve medium-rare. Good for elk and deer.

Well, okay... "We have a winner here"!!! Finally a venison recipe that does not taste gamey at all. Woo-hoo!!! Hubby is an avid hunter, and always goes for the trophy bucks (which the meat isn't the best). I was so glad to have found a recipe that makes it enjoyable to eat an 'older gentleman'. I did not have any loin steaks left in the freezer, but I did have some back straps (better than a loin to start with). These were so tasty and tender (I think the overnight marinating did that). The only other thing that I had done differently was that I only had minced ginger root, so I used just shy of a teaspoon. It worked out just fine. This is definitely a keeper (he's bound and determined to snag another one this season). Thanks for posting this treasure of a find. P.S. I googled "Jim Zumbo's: Amazing Venison Recipes" cookbook. I'm trying to get a copy in the next 2 weeks to surprise hubby with on Christmas. I bought him "The Complete Venison Cookbook" by Harold W. Webster, Jr. a couple years ago that has many good recipes, also. You may want to check that book out as well, KateL. (Made for PRMR)
Place the ginger root, garlic, onion, soy sauce and sugar in a blender and blend until smooth (about 30 seconds). Taste marinade and add additional soy sauce to mellow the flavor if desired.
Place venison in a glass casserole dish and pour the marinade over the venison. Sprinkle sesame seed and green onions on top. cover with plastic wrap. For best results, marinate overnight.
Grill venison based on preference of well, medium, or rare.
Serves 4.