Kalamata Olive and Garlic Butter
karen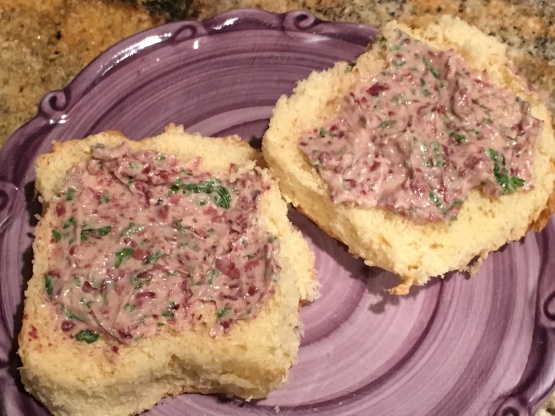 A compound butter is butter that has been flavored by blending softened butter together with various ingredients. These can be savory or sweet.

Top Review by karen
Wow! This is amazing. I intended to cut the recipe in half, cutting the butter in half. Then I ended up using a single large garlic clove because I love garlic bread, and ended up upping the olives and parsley a bit too. Threw everything into a mini-chopper and pulsed it until the olives were well chopped. OMG...SO good. Followed the recipe of letting it sit room temp for a few hours before using it to make some garlic bread. I started the bread on the grill but since it wasn't all melted when the steak was done, I finished it up under the oven broiler for a minute or so. This is company worthy butter. Would also be great on a steak or pasta. Can't wait to try it that way too.
In a medium-size bowl, whip 1/2 cup unsalted butter (room temperature) until fluffy.
Combine the softened butter and other ingredients together until they are completely blended.
For the flavor to better penetrate the butter, allow it to stand at cool room temperature for a few hours before refrigerating.
Compound butters may be stored in freezer, tightly wrapped. Use a sharp knife dipped in hot water for cutting the frozen butter.