Kalamata and Fig Tapenade
kxcakes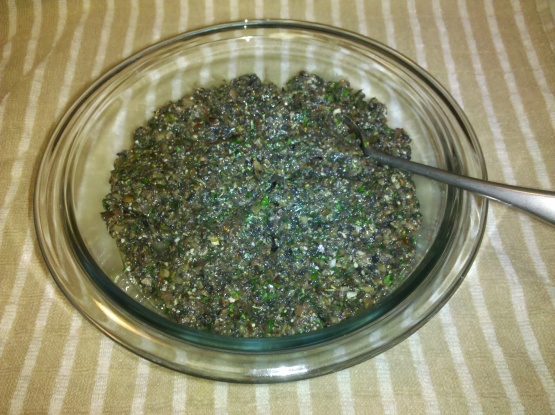 Tapenade is a Provencal olive paste that we like to refer to as one of our "gold of the fridge" items because it can add depth and interest to any number of dishes. Just a few spoonfuls can change everyday mashed potatoes, vinaigrettes, or omelets into something really special. This recipe is a great introduction of tapenade, because it doesn't contain the traditional anchovies, and the figs add a sweetness that mellows the strong briny flavor of the olives. Adapted from the "Big Book of Appetizers" cookbook.

I added grilled Portabella mushrooms to this. More garlic. Rosemary instead of thyme. Forgot the capers - darn! Left out the walnuts to keep the fat level down, but it would have been even better had I included them. Next time, I think I'll just chop the dried figs so they aren't lost in the processor, instead of simmering them until they're soft. Thanks for a fabulous, flexible recipe!
Place the olives, figs, lemon zest and juice, garlic, capers, red pepper flakes, thyme, pepper, and parsley in the work bowl of a food processor. Pulse a few times to blend, but do not puree. Add the oil and pulse a few more times to form a cohesive but still coarse paste. Add the walnuts and pulse until they are chopped but small pieces are still visible.
Make ahead: Tapenade can be made up to 1 week ahead and kept, covered, in the refrigerator.