Kahlua Pecan Chunk Ice Cream
Rita1652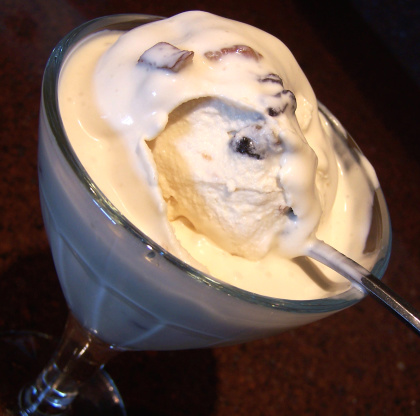 Decadent and delicious! Created for RSC #10. Cooking time depends on your ice cream machine. Mine took 25 minutes.

Creamy sweet nutty goodness! This is a five star recipe for taste! But the directions are a bit confusing. I did chill the pecan nut mixture and added it to the ice cream just before it was done churning. Not sure what to do with it?? I didn`t want to add it hot to the cream so chilled it first. Wasn`t sure if it was a topping or to be mixed in???? Thanks
Melt the butter in a sauce pan over medium high heat.
Add the brown sugar and stir to combine for a minute, until sugar begins to melt.
Add raisins and pecans; stir.
Add maple syrup and combine, making sure that the sugar is liquefied.
Remove from heat and add Kahlua, stirring.
Set aside.
In a food processor or with an electric mixer, whisk the eggs until fluffy, about 2 minutes.
Add the sugar and combine well.
Add the cream, milk and vanilla and whisk together.
Chill in the refrigerator for an hour.
Add mixture to ice cream freezer and process according to manufacturer's instructions. Add the pecan mixture at the appropriate time, according to "mix in" directions for your machine.