Kahlua (Or Amaretto) Chocolate Bundt Cake
This is an easy cake to make, and yet, it looks and tastes elegant! I plan to try this with the Amaretto and the new dark chocolate/raspberry swirled chocolate chips, for Valentine's Day.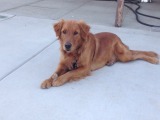 I really liked the flavor of this cake; but unfortunately is was very dry and crumbly. In my opinion; I think it needs another egg, maybe? Thanks for posting.
Coat Bundt pan with cooking spray.
Mix all other ingredients; spoon into pan.
Bake at 350 degrees for 40-45 minutes.
Cool in pan for 10 minutes; remove from pan.
When cool, sprinkle with powdered sugar.