diner524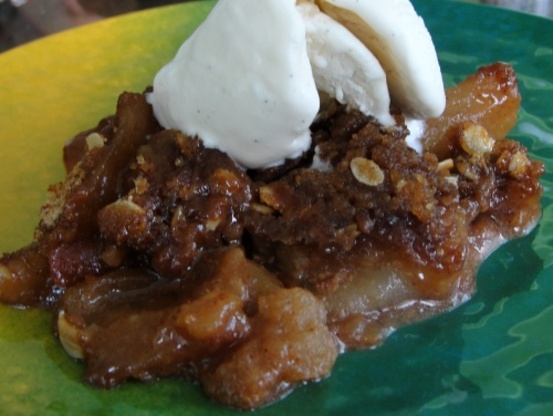 This uses Splenda brown sugar blend, so it's lighter in sugar, but by no means a true diabetic recipe. This could easily be made with regular brown sugar if you so choose also, and the amounts are given for that. It's sweet and creamy and delicious with a scoop of ice cream on top.
I made this for our brunch this morning for a group of 7 and we all loved it. I followed it exactly as written, except had to use almonds. We felt it was a perfect balance of sweetness, though I used the regular brown sugar. Thanks for sharing the recipe. Made for ZWT6. Photo to follow.
Put the Kahlua and the golden raisins in a small bowl and let sit.
Melt the 2 tablespoons butter in a pan over medium heat and add all the sliced apples.
Sauté the apples until they start to get soft, and then add 1/4 cup of the Splenda brown sugar blend.
Let the sugar completely melt while stirring.
Then add the raisins and Kahlua mixture, 1/4 cup of the pecans, 1 teaspoon cinnamon, and a pinch of salt.
Let this cook down a little until it starts to look syrupy.
Now slowly add the heavy cream while stirring well.
Let this cook for a few minutes and then transfer it to a greased, 9 inch square pan.
In a bowl, mix together the flour, oats, 1/4 cup of the Splenda brown sugar blend, 1 teaspoon cinnamon, and the 2 tablespoons pecans.
Sprinkle this mixture over the top of the fruit mixture.
Dot the top of the cobbler with 2 tablespoons of the butter, cut into small pieces.
Bake at 350 degrees for an hour, or till the top is a little crunchy and it looks done.(my oven is a little sluggish, so yours may not bake as long, please use your best judgment).