Kahlua Baked Brie Appetizer
alligirl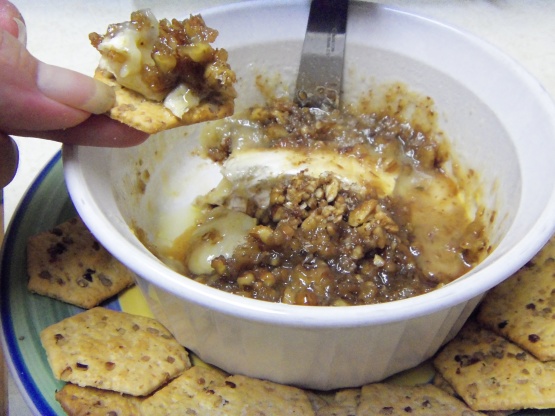 A quick and easy appetizer. If you like Brie, you will love this recipe.

12/10 O M G! 5 stars x 5! If this appetizer doesn't knock your socks off, you're not wearing any! This is the MOST amazing appetizer I have ever had. I served with apple slices & wheat crackers. There was not a bit left. I wanted to lick the serving dish. UPDATE: Like a dope I thought I'd try a lower fat brie, my advise, DON'T do it. You're recipe will fail! Get the real deal or don't bother making it. It was awful!
Spread pecans in a 9" pie plate.
Microwave on high 4 to 6 minutes, stirring every 2 minutes until toasted.
Add Kahlua and sugar; stir well.
Remove rind from top of Brie and discard rind.
Place Brie on microwave safe plate.
Spoon pecan mixture over top of Brie.
Microwave, uncovered, at high for 1 to 1 1/2 minutes or until soft, turning halfway through cooking.
Serve with Melba rounds or crackers.