Kahlua & Baileys Chocolate Cream Pie
Weewah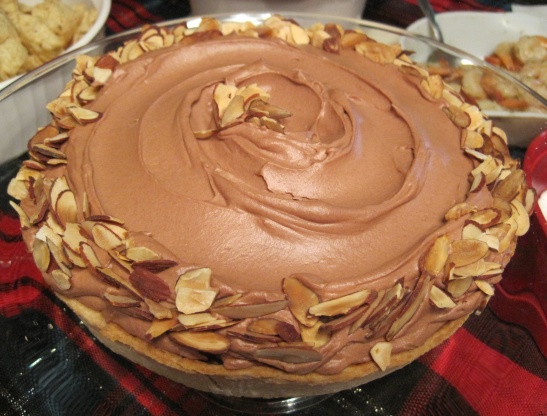 I lost my old recipe for Kahluah Pie and there were none like it on this site, so I improvised. It is silky, rich and I love the consistency: not too firm, soft and smooth but holds it's shape. And my crust stayed crisp! The toasted almonds are the perfect complement in flavor and crunch. A sliver is a serving - it is SO rich - and it can be made with any liqueur you like, Baileys and 'Hot Damn' (cinnamon) would be good, like the drink 'Oatmeal Cookie'.
Toast almonds in a 300 degree oven while melting choc. chips in a double boiler. Watch the almonds CAREFULLY, they burn in a flash.
With a hand mixer, beat melted chocolate into the cream cheese till it is smooth and glossy and holds it's shape.
Beat in liqueur by the 1/4 cup.
In another bowl, whip the cream, adding in the pudding mix and the salt; beat untill it is very stiff.
On low, blend the two mixtures together completely.
Pour into a pie crust and decorate or garnish with the toasted almonds.
Refrigerate until set, about 4 hours; this pie improves with age.
You can make this far more chocolatey if you double the choc. chips.