Kacang Panjang Kecap - Indonesian Green Beans in Sweet Soy
Cole R.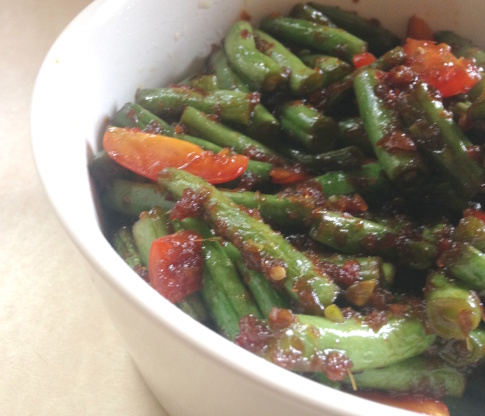 This is a simple but delicious Indonesian recipe for French / green beans. It goes perfectly with Nasi Kuning (festive yellow rice). This recipe comes from 'Recipes from our Thai kitchen'. Time to make doesn't include resting time.

I thought this was delicious. I added a little fresh ginger to the paste in the beginning (only because I had it, not because I thought the recipe would need it). I'm not sure why realbirdlady didn't think the dish had enough flavor. I followed the other measurements/ingredients pretty closely as well as the times and thought it was yummy. I did add a lot of salt - not just a dash, perhaps about a half teaspoon - and I added it when I added the tomatoes (you'll see from the photo that I used cherry tomatoes). I would definitely make this again. It was the perfect accompanying dish to a chicken curry on our table, and a great way to liven up green beans. I think the stir frying is essential in order to reduce the kecap manis so that it coats the beans as they cook.
Put garlic, fresh shallots, and 2 tablespoons water into a mortar and pestle and smash into a smooth paste. Set aside.
Heat oil in a wok over medium-low heat. Add paste and cook, stirring, about 8 minutes. Add beans and chiles, stir to combine.
Add kecap manis and 1/4 cup water, stir to coat. Increase heat to medium high and stir-fry until beans are barely fork tender, 6-8 minutes.
Add tomatoes and cook until just wilted, about 2 minutes. Season with salt to taste and transfer to a large bowl.
Let beans rest for about 10 minutes before serving, to allow flavors to intensify. Garnish with generous amount of fried shallots, and serve with festive yellow rice. Enjoy!