Kabocha Squash With Sage and Leeks
I had this at a restaurant in Los Angeles called JAR. When the LA Times posted the recipe, I HAD to try it- delicious and easy (I have cut the butter by half)
1133.98-1360.77 g kabocha squash (2.5-3 lbs)
118.29 ml butter (1 stick)
4-8 leaf fresh sage, chopped into ribbons
1 leek, julienned white only
4.92 ml salt
Directions
preheat oven to 350.
prepare squash by washing, poking 2-4 holes into center with sharp knife.
bake whole squash in oven for 60-90 minutes, until soft.
when squash is done, cut in half, remove seeds and fibers, and scrape flesh from skin into a bowl, mash but do not puree squash.
melt butter in a large skillet.
add sage leaves and fry until crisp 1-2 minutes.
add leek and salt and continue heating 2-5 minutes until leeks are soft and translucent.
now add squash to skillet and mix until all butter is incorporated.
Reviews
Most Helpful
Great tasting dish, kabocha squash is very sweet like a pumpkin or yam, and it was nice to have the leeks and sage for contrast. This would be a nice side at Thanksgiving in place of your usual candied yams. Served with roast chicken, potatoes and carrots, and cranberry sauce. [Made for Zaar Cookbook Tag]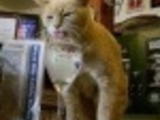 Really, really yummy. I didn't have any leeks, so used a yellow onion; didn't have fresh sage, so used rubbed sage; didn't have time to roast in the oven, so I chunked it up & steamed the squash - still turned out great! I also used less butter (about 2/3 of a stick) which I won't do next time since I thought it turned out a little dry - but oh, still so yummy!
We had never had kabocha before but we LOVE IT now! My 10 year old calls this recipe "a keeper" and my husband licked his plate clean... oohing and aaahing over it the whole time!!! Thank you so much for the inspiration! Food.com cooks never let me down!!