Marc 2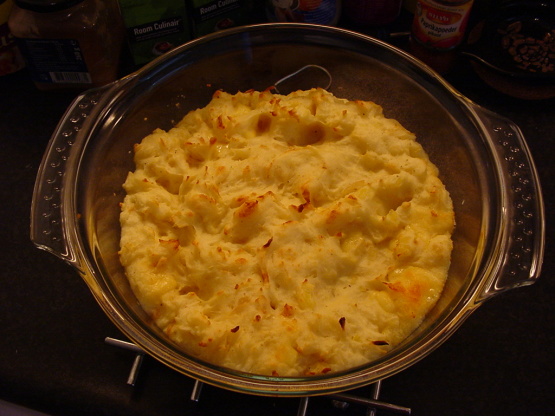 I was asked for a typical Dutch recipe and while I can't vouch for its authenticity it is a recipe that came from my grandmother and handed down to my mother down to me. Originally this recipe was used to use up leftover old cheese; as far as I know however no one did this in my family. This recipe is still a favorite in our family and I guess this mash is what's considered comfort food, in any case, it's easy to make and somehow I never seem to make enough. We eat it with a fried egg and pickles. The cheese we use is probably difficult or impossible to come by outside the Netherlands. We use "belegen" or "extra belegen" Gouda cheese. If you can get your hands on Gouda cheese go for the medium aged one (not the mild/young or old varieties). By the way, feel free to experiment with different kinds of cheese but do take one with a strong flavor, one that melds nicely and is rather salty (so called "American cheese" is wrong if you'd ask me). You can make this in advance, let's say in the morning, and store in your refrigerator.

Top Review by Gerry
Excellent! Thank you for sharing a typical Dutch recipe, seeing it's your grandmother's recipe that's authentic enough for me! Love the grandma recipes and we loved this one. Made as posted and have made it a number of times - and yes have played with the cheeses. Gouda is REALLY expensive here in 'small town Saskatchewan'! This comes together to make for one terrific potato dish. It's so good just mashed that I have done that as well. Thank you for sharing your family recipe - it''s a keeper.
Slice the onion in half rings approximate 1/8 inch thick (about 3 millimeters), very slowly simmer the onion in the butter until translucent. (Add a splash of water if it goes too fast).
Cut the cheese in about half inch cubes.
Make a stock with the stock cube.
Cook and mash the potatoes and mix with the milk and stock, it should be rather thin (runs of a metal spoon). (Do not use all the stock, that's way too much. Think of it as thick porridge).
Taste and add salt and pepper to the mash (careful with the salt, the cheese and stock adds salt as well).
Mix the cheese cubes and the onions (with its buttery goodness) through the mash with a spoon and transfer to an oven proof (glass or pyrex and deep, not a shallow) baking dish. The cheese is not supposed to melt at this stage, maybe a little on the outside.
Put the dish (without a lid) in an oven (preheated to 180 degrees Celsius) for approximately 45 minutes or until the top becomes golden brown. (If you have a glass baking dish you can see the cheese bubbling away in the bottom so you know it's heated through).
Serve with a baked egg and a gherkin.