Just Your Average Vegetable Salad
Rita1652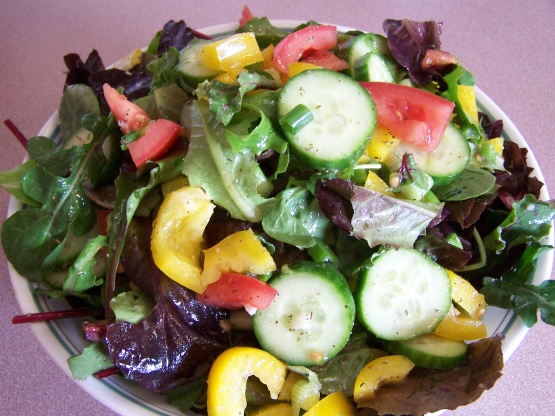 It's just an average thing a person can put together. There's nothing particularly special about it. On the other hand the dressing makes it interesting.
Top Review by PaulaG
This made a quick and easy salad with just the right amount of dressing for the lettuce I used. I used torn romaine and considerably more than the recipe called for. I had some sliced black olives in the fridge and tossed in a few of those, tossed the salad and allowed it to chill while I cooked dinner.
Put the vegetables and green onions in a bowl and toss in a large bowl.
In a smaller bowl add the garlic, vegetable oil, lemon juice, and seasonings together.
Whisk until well blended.
Add to salad and toss again.
Let chill for up to four hours.