Just the Way We Like It Chili
JustJanS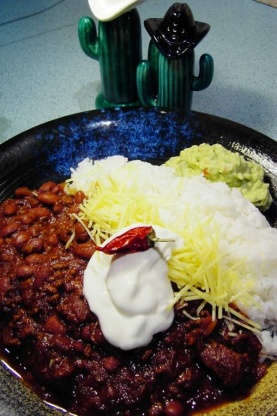 Finally, after trying out an untold number of recipes, numerous tweakings, etc. The title says it all.

I thought this was delicious chili. Clear, easy instructions and the chili got better and better as it simmered. We like things with zip, so I did use all four jalapenos, although I did cut down the amount of cayenne slightly (I'd rather add more to each serving later). I did not have whole cumin seeds, so I used ground cumin instead and I left out the beans, since my family doesn't care for beans in chili. All in all, a very tasty dish that would be great for a Superbowl party. Next time, I may toss everything into a crock pot after the meat has browned - I think this would adapt quite well for the crockpot.
Heat oil in large Dutch oven or other stewpot over medium heat.
Cook onions, garlic, ground beef and steak for ten minutes or until meat is well browned and the onions are tender.
Add the tomatoes, beer, coffee, tomato paste and broth.
Mix well.
Add brown sugar, chili powder, cumin, cocoa, oregano, cayenne, coriander, and salt.
Stir again.
Add two cans of beans and the chili peppers.
Reduce heat to low and simmer for 1 1/2 hours or until steak pieces are beginning to fall apart, uncovered.
This can be done in advance, or even the previous day.
Before serving, stir in the remaining can of beans.
Simmer for 30 minutes, and serve.
Extra-nice served with cornbread, and a dollop of sour cream and shredded cheddar on top.