AltaJoy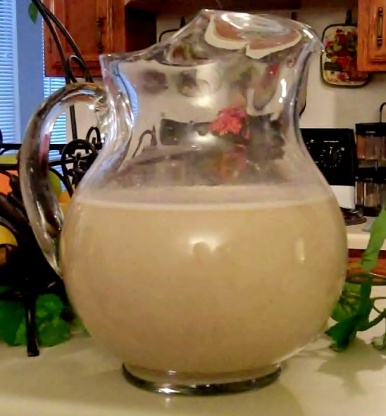 Rice milk seems too thin. Oat milk seems too thick. So I tried a combination of both together. I like the consistency of this mixture.

I've made this a few times and had to learn a few things to get it right. I prefer to use all rice instead of oatmeal. I've found that I can get it smooth without even straining it as long as I heat the water before I add it to the blender. Thank you for an inexpensive milk alternative recipe worth going back to!
Add rice and oats to 2 cups water. Bring to boiling, then reduce heat to low and simmer for 15 minutes, stirring frequently.
Add other ingredients while combination is still warm, so honey dissolves easily,.
Blend together in a blender. Start at low speed, increasing speed to high gradually, until well blended.
Add 2 cups of water (Can use ice cubes for part of this to cool milk more quickly), blending thoroughly.
Have the remaining 2 cups of water (include part as ice cubes here too, if desired) waiting in a container.
Strain the rice/oat mixture through a fine sieve. (I think the strained solids are a tasty small serving of cooked cereal).
Add rice/oat milk to the water in container and shake well. This may be too thick for your liking. Just add more water until it reaches the desired consistency.
Enjoy!
(cooking time doesn't include time to cook rice before adding to recipe).