Just Like Loaded Baked Potatoes Casserole
Zurie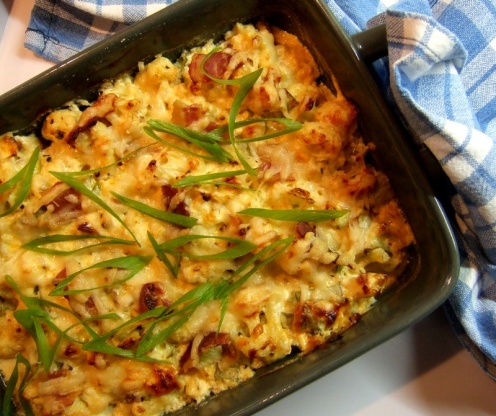 This is an awesome low-carb version of loaded baked potatoes, and tastes far better than any version of mock potatoes that I have tried. In fact, this dish is soooo good, you will not believe it! I do not remember where I got this recipe, but it is a fabulous side to any low-carb meal. You will be pleased, I promise! Yum! Yum!

This was absolutely delicious. I am not necessarily a fan of cauliflower but this intrigued me. I cooked the cauliflower in chicken stock and also added some finely diced red onion. I had guests over for dinner and everyone loved it. Thanks for sharing, Helping Hands, this is a keeper.
591.47

ml cooked cauliflower (I use frozen, cooked until tender, in the microwave)

236.59

ml sour cream (low fat works here, too)

177.44

ml shredded cheddar cheese (full-fat works best)

3

green onions, finely chopped

3-6

slice crumpled cooked bacon or 3-6 slice turkey bacon
salt and pepper
Pre-heat oven to 350.
Chop cooked cauliflower into very small pieces.
Mix sour cream, 1/2 of the green onions, 1/2 of the cheese, 1/2 of the bacon, and salt and pepper to taste in medium bowl.
Stir in the cauliflower.
Place in medium baking dish and sprinkle remaining cheese and bacon on top.
Bake for 20 minutes.
Sprinkle the remaining green onions on top just before serving.