Just Like Homemade Green Beans
This is a quick and easy green bean recipe that take about 5 minutes to cook and uses canned green beans but taste like they've been cooked all day.
2 (14 1/2 ounce) cans green beans (any style)
1⁄4 cup hormel real bacon bits
1 tablespoon instant minced onion
Directions
Drain green beans.
Mix all ingredients in a microwave safe bowl.
Microwave on high for 4 minutes. Stir and serve.
Reviews
Most Helpful
This is a really nice way to dress up canned green beans. I used 3 slices of real bacon, crumbled. The only thing I might do differently, is to take them out after 4 minutes because my green beans started to shrivel a bit. Thank you for a keeper of a recipe!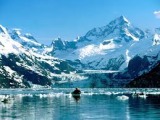 Yummy. I halved the recipe and used real bacon instead of bits. Simple and good. Thanks Texaspollock for sharing. Made for Cookbook Tag.

We really enjoyed these. I used onion powder instead of minced onions as I didn't have any. I just shook on the powder, I didn't measure it. We all really liked these. I did let them simmer on the stove instead of putting them in the microwave. These will be made again as we love green beans. I loved that they were quick and easy to make and they were full of flavor.