Just Like California Pizza Kitchen Mac & Cheese
Taralli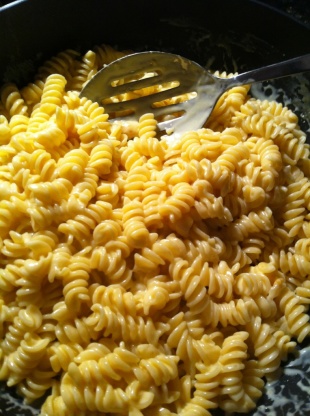 My family loves the macaroni and cheese at California Pizza Kitchen, so I tinkered around and came pretty close to it. Enjoy!
For a more sophisticated, baked mac and cheese, follow these steps: Let mac and cheese cool until warm and add 1 cup shredded cheddar. Put into a buttered dish and cover top with shredded cheddar Cover top with tinfoil (butter it to prevent sticking) Bake for 20 minutes at 350 degrees ferenheit Let cool for 10 minutes to set Enjoy! This will result in a delicious, cheesy outcome and the cheddar adds a whole new dimension. Perfect base recipe and I will continue finding new ways to tweak it for more creative outcomes.
Cook pasta in boiling water for 10 - 12 minutes until al dente.
Meanwhile, cut the Velveeta into cubes and add it to the cream and butter in a large saucepan over low heat, stirring often.
Drain pasta well and add to Velveeta mixture and gently mix to coat.