Junior's White Meat Chicken Salad
Bev I Am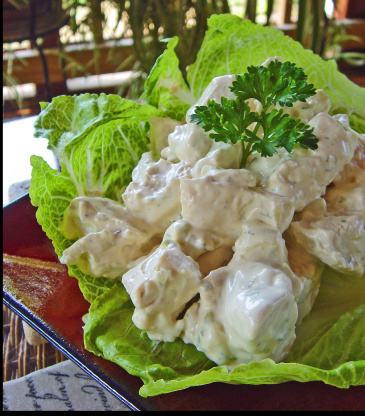 Whenever in NYC, I always try to cross the bridge to Brooklyn and eat at Junior's on the corner of Flatbush and Dekalb. I was fortunate to come across this recipe for their chicken salad. It's great for making sandwiches on thick slices of white or Challah bread, or simply serve as a salad on curly lettuce leaves. P.S. You haven't lived until you've tried Junior's cheesecake, the best in the world.

Top Review by Redox
I've been trying different recipes for Chicken Salad and this one is my current favorite. It has a wonderful flavor and I'll be making this often. I made it as written save for using 1 tsp of dried dill instead of 1 Tbl of fresh dill. For those who may not know, the rule of thumb is use 1/3 the amount of the fresh herb if using dried. The dried herb is more concentrated so less is needed. Thanks for providing this recipe, Alan, it's delicious.
To cook the chicken: Fill a large saucepan half full with water. Add a few celery leaves, if you wish, plus the salt and white pepper, and bring to a boil over high heat. Slide in the chicken breasts, reduce the heat to medium-low, and simmer until the chicken turns opaque and the juices are no longer pink, about 8 minutes. Transfer the chicken to a colander with a slotted spoon, and rinse with cold water. Pat the chicken dry with paper towels and cut into 3/4-inch chunks (please don't shred the chicken).
Place the chicken chunks into a medium-sized bowl and sprinkle with the lemon juice and toss well. Add the diced celery and dill and toss again.
Mix all the ingredients for the dressing in a small bowl. Spoon the dressing over the chicken mixture and stir until all of the chicken and celery are coated.