Jungle Bark (Ginger and Apricot White Chocolate Bark)
Annacia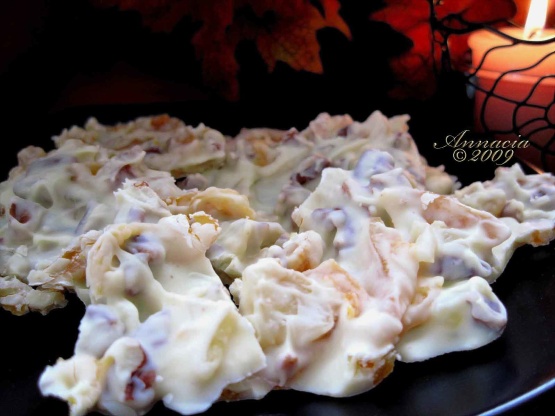 Posting for safe keeping Times are approximate Think this will be made for Christmas gifts baskets

Super simple and oh so yummy. I liked the suggestion of nuts being included so I added a handful of chopped pecans. It was 8 mins from beginning to chill and most of that was chopping the apricots, ginger and nuts. This is popular with a capital P. Be sure to use good quality chocolate (I used Lindt). The chocolate will make the difference between a piece of heaven or a copy of something you'd pick up while paying for your gasoline. Made for Photo Tag.
In bowl over saucepan of hot (not boiling) water melt chocolate, stirring occasionally. Stir in apricots and candied ginger.
Pour onto foil-lined baking sheet; using palette knife or rubber spatula spread into 12- x 9- inch (30 x 23 cm) rectangle.
Refrigerate for at least 1 hour or until hardened. Break into pieces.