Katzen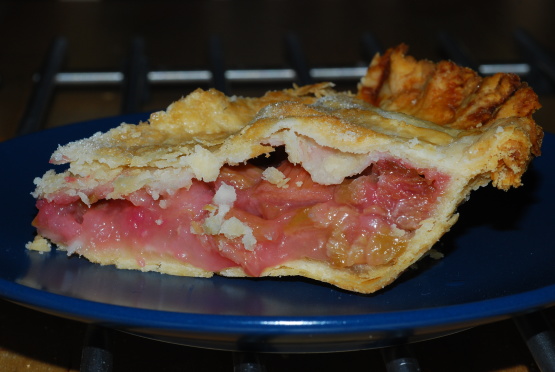 This is my MIL's recipe for rhubarb pie - I just got this recipe today, after putting out the call to my husband's siblings for it. You see, I'd made rhubarb pie from 'Zaar for DH, and well, it just wasn't the same as his Mom's! So I eagerly looked over the recipe today, and it is slightly different than the one I'd found and made here. I really don't think it's SO different... but my husband thinks so. So, I'm putting it up here for safekeeping, and to share the story with a whole bunch of you who probably understand the profound effect of MIL recipes! I'm sure my MIL is smiling down on us right now, with that evil grin she always had... I AM leaving out the typos that I'm not so sure weren't intentional on the part of my BIL (bake at 450 for 15 minutes, then bake at 350 for 4-5 minutes!)
Make pastry and chill until ready to use.
Line a 9" pie plate with pastry, leaving a 1/2" overhanging edge.
Brush pastry with 2 tbsp melted butter or margarine, and chill.
Mix flour and sugar together; measure out 1/4 cup of mixture, and sprinkle over chilled pastry.
Place rhubarb in a large baggie with flour/sugar mixture and shake well. Fill pie plate with coated rhubarb, being careful to sprinkle extra flour/sugar mixture evenly on top and dot with remaining 2 tbsp butter.
Adjust top crust, fold lower layer over top edge, and crimp.
Slit top crust, brush with milk, and sprinkle with sugar.
Bake 15 minutes @ 450, and then 40-45 minutes @ 350.