Jumbo Shrimp With Cilantro Mayonnaise
teresas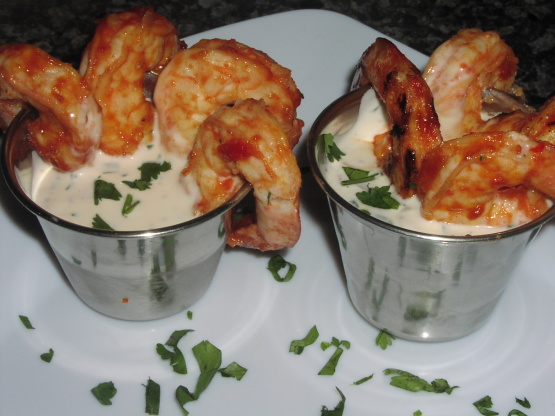 A sweet and spicy marinaded & grilled shrimp dish with a cool cilantro mayo dipping sauce. A light treat full of flavor.

I used large shrimp and cut the recipe way down...served it with one of our appy nights...we had mixed feelings about this dish...I felt that the marinade was fighting for attention with the mayo mixture...I would have just loved grilling the shrimp with salt and pepper and dipping it into the marinade mixture...that mixture is awesome...the hubby really enjoyed the mayo mixture and wanted to eat it with just plan grilled shrimp...like a tarter sauce...I marinated the shrimp for 3 hours and grilled them on my George Foreman Grill...made for "First Time" tag game...
Mix the marinade ingredients together in a bowl. Add the shrimp to the marinade and toss to coat evenly. Cover and refrigerate for two hours, if time permits.
Mix the mayonnaise ingredients together, cover, and refrigerate until required.
Thread four shrimp onto each skewer and cook them on a prepared grill for 4-5 minutes on each side, turning them once. To serve, remove shrimp from skewers, if preferred, and serve with the cilantro mayonnaise.