Jumbo Shells Stuffed With Cheese With Meat
Judy M.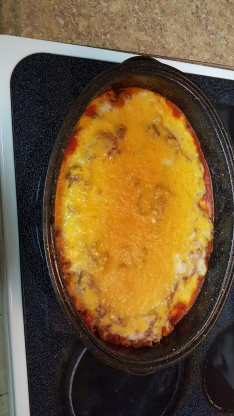 A really yummy way to make jumbo shells stuffed with cheese taste. It makes a large amount but could be cut in half. I think it is something you could be sure people would like and be really different. I found the basic on the back of the Barilla noodles box but fixed it up some as it would have seemed bland, so I made this and we love it.
Easy and delicious recipe. My kiddos loved it and even asked for seconds. I had to double up on the shells and actually still had left over filling after filling a 9x13 casserole dish. I will definitely cut this recipe in half the next time I make it
Boil shells with butter and salt to taste.
Brown hamburger meat and combine with spaghetti sauce; drain shells.
Combine the egg, ricotta cheese, mozzarella cheese, basil, garlic powder, minced onion, oregano, salt, parsley flakes, and only 1 cup of the parmesan cheese.
Put the mixture in the shells like a tablespoon and half into each one line them up in across a three quart casserole dish.
Pour the meat over the top and cook for 30 minutes at 350°F.
Add the remaining parmesan cheese over the shells and meat and allow to cook for 10 more minutes.