Jumbo Prawns (Shrimp) With Mushrooms and Onions
Az B8990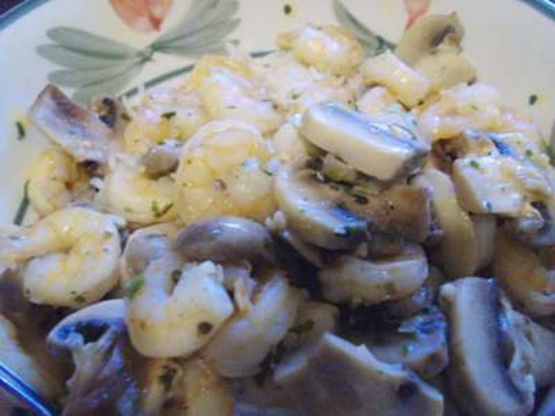 Edit: This had a one star review because I forgot to list the amount of shrimp! It's now edited so I hope you give it a chance. This is so good! If you use smaller prawns make sure you reduce the amount of time you cook them. Recipe is from The Fisherman's Warf Cookbook.Time listed for recipe is if you are using peeled and deveined prawns.

Top Review by karen
Wow!!! This was so easy, and has a great flavor from the wine. I actually had a bag of pre-cooked frozen shrimp, so I defrosted it and cooked the onions & mushrooms first, tossing in the shrimp at the end just to get it hot. I also added in about 3/4 cup of imitation crab, and used all olive oil instead of half butter. I added a fair amount of freshly cracked pepper, and it really added a lot of flavor. Like other reviewers, I used over a cup of mushrooms, and think that other veggies could also be added. This is definitely fancy enough for company, and is going into my 10 star cookbook!
Heat the oil and butter in a heavy saute pan.
Add the jumbo shrimp, which have been peeled, deveined, and split partly through the back.
Stir gently 2 - 5 minutes.
Add the chopped green onions, the mushrooms, salt and pepper to taste.
Cook until the prawns have changed color, and add the dry white wine.
Cook 3 minutes and serve in a hot chafing dish.