Jumbo Large Top Chocolate Chip (Or Blueberry) Muffins
KinMa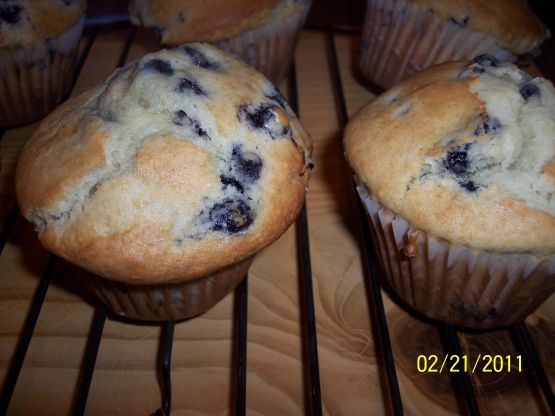 Sometimes regular sized muffins just aren't good enough. This recipe is already doubled, and for use in a jumbo muffin tin that holds 6 muffins. These are for large topped muffins, so each section will be filled to the top. The photos I provided have decorative green sugar on top of the chocolate chip muffins. It was all I had on hand and is bigger then normal sugar. The other photos are of Blueberry muffins.

This is an easy recipe. The muffins are very appealing and rose with big crowns. But I had to bake for 35 mins instead of 29. The only problem is they are not sweet enough. I will try again with more sugar added and maybe a brown sugar sprinkling on top.
Large bowl

2

eggs
1⁄2 cup vegetable oil (tad overflowing from cup)

1

cup milk (tad overflowing from cup)

1

cup sugar

2

teaspoons vanilla extract (do not add for blueberry muffins)

Medium bowl

3

cups flour

4

teaspoons baking powder

1

teaspoon salt
1 1⁄4 cups semi-sweet chocolate chips (or a small bag of frozen blueberries)
1⁄2 cup walnuts (optional)
Mix eggs, oil, milk, sugar and extract (remember no extract if you are making blueberry muffins. It will be too moist) together on medium speed with a mixer. I add a little extra of the oil and milk so the muffin isn't too dry. Just a little overflowing from the cups. (again, not needed if you are making blueberry muffins.
Mix flour, baking powder, and salt together in other bowl.
Combine and mix with mixer.
Once all mixed together add Chocolate Chips and mix with spoon. The 1 1/4 cup may sound like a lot but it really isn't. Add nuts if you wish. Make sure its mixed well. (here is where you add blueberries if you wish to make blueberry muffins. Don't add too many ore they'll be kinda gross).
Fill each cup ALL the way to the top for a bigger topped muffin.
Bake at 400 degrees for 29 minutes.