Julie's Turkey Tetrazzini
diner524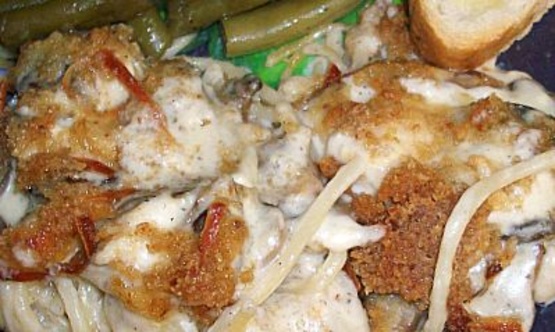 I didn't create this recipe but it's in my recipe box so it probably came from my mom. I use milk because I never have half-&-half. I have also made without the sherry but don't advise it even though it still tastes good.
We enjoyed this for dinner last night. I made exactly as written, but when it came to baking the dish there wasn't a temperature written in the directions, so I baked it at 350 degrees. Next I would add some garlic to this dish along with the shallot. Thanks for sharing. Made for Spring PAC 09.
In a large skillet, melt 4 tablespoons of the butter.
Add shallot and cook over medium heat until soft, 1 minute.
Add mushrooms and cook until they begin to brown, 5 minutes.
Sprinkle with flour and stir for 1 minute.
Stir in milk, sherry, salt and pepper.
Bring to a simmer then reduce to low, cooking until thickened, 3 minutes.
Remove sauce from heat and stir in 1/3 cup of parmesan and the turkey.
Pour over pasta in a baking dish and sprinkle with the bread crumbs and remaining parmesan.
Dot the top with remaining butter cut into tiny pieces.
Bake until golden brown and crusty, 20 minutes.