Julie Haggerty's Perfect Pound Cake Trifle
Hanka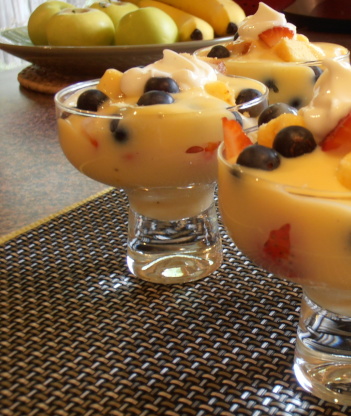 This is from "Sandra Lee - Semi Homemade Desserts", chosen for QueenBee in the August Cookbook Swap. It looks like an easy, tasty, appealing dessert when you have family or casual company. Cooking time is refrigeration time TIP : It is better the next day ! ***Suggest you use ONLY best quality frozen berries ! I made with store-brand, and was too soggy !****

Top Review by Hanka
Yummy trifle! It brings back my childhood memory when my mom use to make it for us in summer time when we had fresh strawberries and blueberries from garden. It tastes just like hers! I made 4 individual ones and use fresh berries. It is very easy and quick put together and tastes great! I couldn't find pound cake here so I used Madeira cake which is almost same heavy dense cake. Thank you Janey!
.Trim crusts from pound cake, cut cross-wise in 3/4 inch slices.
Cut each slice diagonally into triangles.
Place slices in bottom of 2 1/2 quart clear glass bowl.
Brush generously with sherry.
Spoon berries evenly over the slices.
Whisk milk and pudding mix in a large bowl until creamy and thickened.
Refrigerate 15 minutes until set.
Pour mixture over berries.
Refrigerate trifle 10 minutes.
Spread cool whip on top, and cover with plastic.
Refrigerate until served.