Julia's Pumpkin Chocolate Chip Cookies
flower7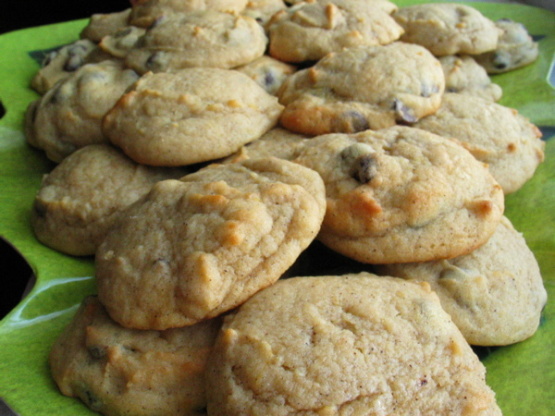 My roommate in college used to make these and the whole plate would last a few minutes. THey are really yummy! P.S. not really sure of the servings, it makes quite a few.

These are very moist and tasty! I had some leftover fresh sugar pumpkin that my mom cooked last week and had just enough for this recipe. The pumpkin flavor was not overly strong in the cookies but that could be the difference between fresh and canned, I suppose. I used about 1/4 cup more chocolate and no nuts. I used my cookie scoop to dish these out and ended up with about 45 cookies. Thanks for posting!
Preheat oven to 375.
Cream 1 cup sugar and 1 cup shortening.
Add 1 ½ cup canned pumpkin and 1 egg.
Separately combine 2 Cups flour, 1 t. baking soda and 1 t, cinnamon.
Mix into cream mixture.
Stir in chocolate nuts, etc.
Spoon onto greased cookie sheet bake 10-12 minutes.