Julia Child's Reine De Saba (Queen of Sheba) Cake
Dakshy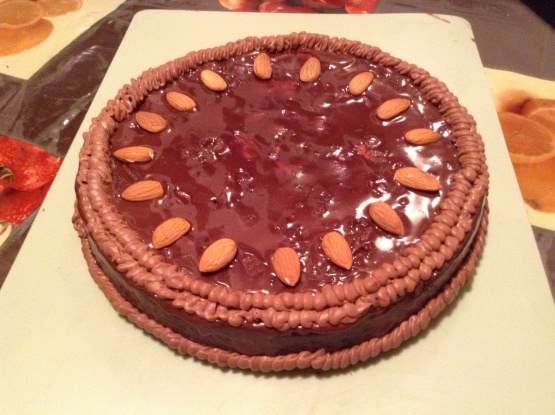 This is from Julia Child's first book, The French Chef. I learned so much from the early days of that show. This was my first attempt to make a cake from scratch when I was a wee one. My copy of The French Chef is pretty ragged. My boxer loved the book so much he ate the cover.

This cake is truly amazing. I made it with raspberry liqueur in place of the rum and then frosted with her soft chocolate icing: 2 ounces sweet chocolate, 1 ounce unsweetened chocolate, 1 1/2 Tbs rum or strong coffee (I again used raspberry liqueur here), a pinch of salt and 6 Tbs butter). I spread melted white chocolate thinly on wax paper and froze it then broke it into little leaf pieces and placed it on the top along with some fresh raspberries. It tasted fabulous and looked beautiful!
3

ounces semisweet chocolate, plus

1

ounce unsweetened chocolate

2

tablespoons dark rum or 2 tablespoons strong coffee
1⁄2 cup unsalted butter, at room temperature
1⁄2 cup granulated sugar

3

egg yolks

3

egg whites
1⁄4 teaspoon cream of tartar

1

pinch salt

2

tablespoons granulated sugar
1⁄3 cup blanched almond (pulverized in blender or food processor with 2 tablespoons granulated sugar)
1⁄4 teaspoon almond extract
1⁄2 cup cake flour
Preheat oven to 350 degrees. Set the oven rack in lower middle level.
In a saucepan over low heat, melt the chocolate in the rum or coffee. Set aside. In a mixing bowl, cut butter into.
pieces and cream it. When soft and fluffy, add sugar and beat 1 minute. Beat in egg yolks until well blended.
In another bowl, beat egg whites until foamy. Beat in cream of tartar and salt and continue beating until soft peaks are formed. Gradually beat in 2 tablespoons sugar and continue beating until stiff, shiny peaks are formed. Blend melted chocolate and coffee or rum into yolk mixture, then add almonds and almond extract.
Stir a quarter of the egg whites into the chocolate using a rubber spatula. Scoop the rest of the whites over chocolate and, alternating with sprinkles of flour, rapidly and delicately fold in the egg whites. Turn batter into buttered and floured 8-by-1 1/2-inch round cake pan, tilting it in all directions up to the rim all around. Set in preheated oven. Bake 25 minutes.
Cake is done when puffed to the top and a toothpick inserted 2 to 3 inches from edge comes out clean. The center should move slightly when the pan is gently shaken. Remove pan to a rack and let cool 15 minutes. Unmold onto rack. Let cool 2 hours before storing or icing.