Julia Child's Baked Cucumbers With All Variations
Zurie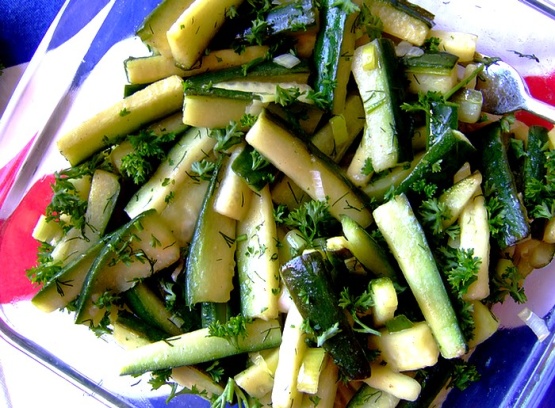 This recipe comes from Mastering the Art of French Cooking, 1961. 'If the natural moisture content is now withdrawn beforehand, cucumbers exude so much water as they are heated that you usually end up with a tasteless mush and swear never to cook cucumbers again. Blanching for 5 minutes before cooking will remove unwanted water, but also most of the cucumber flavor. A preliminary sojourn in salt draws out the water and also the bitterness, if they are the bitter European type, yet leaves the flavor, which a little vinegar and salt accentuates. We have found the following method delicious, and suggest it for all cooked cucumber recipes. Baked cucumbers go with roast, broiled, or sauteed chicken or veal.

Wow! I remember hearing in the movie "Julie and Julia" that the baked cucumbers were surprisingly good, and I finally decided to try them for myself. Like a lot of people, the notion of hot cucumbers just seemed revolting, but HOLY COW, you will never believe how delicious these are! I followed the recipe as is with the cucumbers I had on hand (only 3 shorties, not 48" worth), using the basil option instead of dill (not a fan of dill personally). I will be making these again and again, especially since the ingredients are so inexpensive. Yum!
----- Updated to add: The first time I made these I was using homegrown cucumbers that were pretty fat but a bit short, and the cooking time was just right. When I made them later with 4 long, store bought cucumbers, which were skinnier (or had more seeds- which left them thinner after seeding), they were overcooked when I left them in the oven for the same amount of time. They still tasted great, but the texture wasn't all that good. Since I had more cukes the 2nd time, I wondered if it had anything to do with there not being the same proportion of vinegar to cukes that I used first time, so I increased it. It didn't make much of a difference. Through trial and error I figured out that it was the thickness of the seeded cukes that was making a difference, so I needed to stir and check on them every 15-20 minutes. I take them out as soon as they turn the slightest bit yellowed, while there's still some crunch and firmness in the center.
Peel the cucumbers.
Cut in half lengthwise and scoop out the seeds with a spoon.
Cut into lengthwise strips about 3/8 inch wide.
Cut strips into 2 inch pieces.
Toss the cucumber in a bowl with the vinegar, salt and sugar.
Let stand for 30 minutes to several hours.
Drain and pat dry in a towel.
Preheat oven to 375.
Toss the cucumbers in a baking dish with the butter, herbs, scallions and pepper.
Set uncovered in the middle level of the preheated oven for about an hour, tossing 2-3 times, until cucumbers are tender, but still have a suggestion of crispiness and texture. They will barely color during cooking.
Variation One: Parslied Cucumbers.
In a warm vegetable dish toss with 2 Tbsp minced parsley.
Variation Two: Creamed Cucumbers.
Boil 1 cup whipping cream until it has reduced by half. Season with salt and pepper, fold into the hot baked cucumbers, sprinkle with parsley and serve.