Jule's Chicken Cordon Bleu
wjorma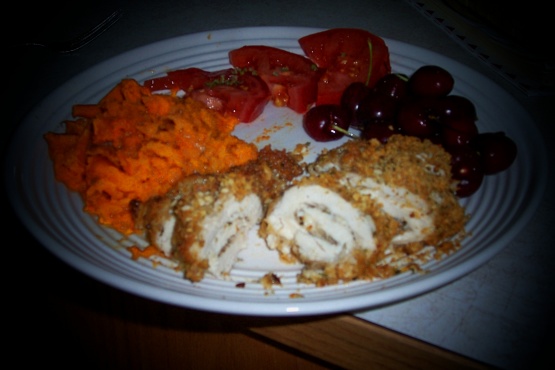 Here is our version of Cordon Bleu. We have also used vegetable cracker crumbs.
Preheat oven to 350°.
Place bouillon, butter,garlic and water in a small sauce pan and heat until melted . Remove from heat and aside. Combine breadcrumbs, Parmesan, and parsley on a plate and set aside.
Place each chicken breast half between 2 sheets waxed paper , and pound each to 1/4-inch thickness using a mallet or rolling pin. Sprinkle both sides of chicken with salt, thyme, and pepper. On each breast half place a slice of Swiss cheese . Roll up each breast half and cheese then dip each roll in chicken broth mixture; dredge in breadcrumb mixture. Place rolls in an 8-inch square baking dish coated with cooking spray. Pour remaining broth mixture over chicken. Bake at 350° for 45 minutes .