jfkid89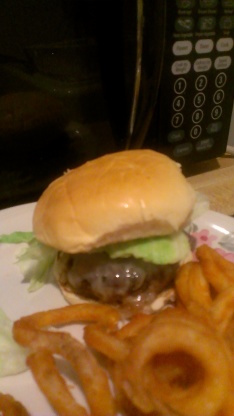 These are the most Juicest and filling Burgers that you will ever put in your mouth!!! Try not to poke the burgers so the juices dont come out.

Wow, who would have thought some soggy bread would make burgers so moist!?! I steer clear of making burgers because I am always terribly disappointed when I make them, they are so dry. This is MAGIC!! I used two slices of plain white sandwich bread, the milk and instead of real onion and garlic,(time crunch) used a sprinkle of Lawry's season salt and some freshly ground pepper. I mixed in 1 1/4 pounds of ground sirloin that I had left over from another dish and made 3 patties. I was so pleased with the texture and juiceness, I still can't believe it. Thanks so much for this great little trick, I will definately be making these again soon.
Take the Bread and Milk and mash it into a wet paste.
Add the Onion, Garlic, and Spices to the bread.
Mix in the Meat into 6-10 pattys and heat the oil into the skillet.
Shape the meat and put in the hot pan.
Toast the buns, watch and flip the burgers every 5 min, and enjoy !