Juicy Lamburgers With Rosemary-Mint Sauce
JustJanS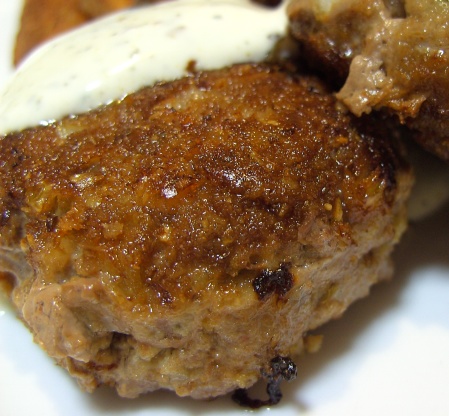 A wonderful recipe I found in a Betty Crocker low-fat and low-cholesterol cookbook. When my market doesn't have ground lamb, I ask the butcher to grind some; just make sure it's from the shoulder. If it's from the dark meat section, the meat will have too much fat and will not taste as good.
TO MAKE AHEAD OF TIME: Prepare lamburgers as directed; shaped into 6 patties and store them, covered, in the refrigerator until ready to cook.
Prepare sauce and cover, refrigerated, until ready to cook patties.
REGULAR DIRECTIONS: Make rosemary-mint sauce and set aside. Spray a 12-inch skillet with nonstick cooking spray. Mix all other ingredients except Rosemary-Mint Sauce. Heat skillet over medium heat.
Shape meat mixture into 6 patties. Cook patties in skillet 5 minutes; turn. Cook 3-5 minutes longer until no longer pink in center. Serve with sauce. Cooked noodles and carrots taste good as sides.