Juicy Julep (Virgin Mint Julep)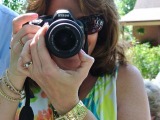 If you are looking for a drink to toast the Kentucky Derby with, without the bourbon.
Make and share this Juicy Julep (Virgin Mint Julep) recipe from Food.com.
1 ounce lime juice (or juice of 1/2 lime)
1 ounce orange juice
1 ounce pineapple juice
1⁄2 ounce raspberry flavored syrup
club soda, to fill glass
4 crushed mint leaves
Directions
Combine all ingredients except club soda in a shaker half filled with ice. Shake well.
Strain into collins glass. Add club soda and stir gently.
Garnish with a sprig of mint.