CoffeeB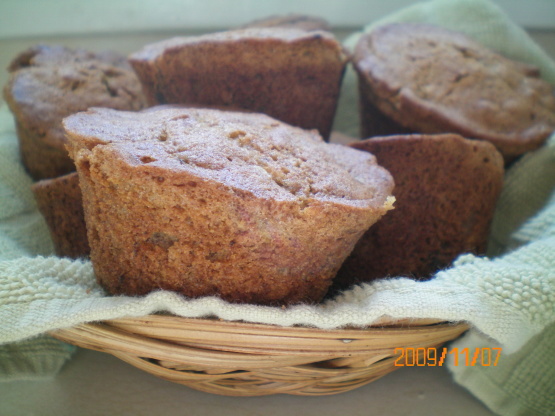 From TOH muffin booklet. Submitted by Judy C. I am saving this recipe for the fall season as I just think it will go great with that season. I love dates and these just seem really simple to throw together. It states these muffins can be frozen up to 3 months too. Another tip offered is to spray your paper liners with non-stick spray and then the liners peel off very easily without leaving crumbs behind. Hmmmm.

Wowzer..these sure are tasty and not overly sweet. I love having muffins on hand in the freezer for pulling out as my mid-afternoon snack. The dates were a welcome addition and something I wish I incorporated more into my recipes. I did omit the walnuts, although I'm sure they'd be a nice addition. I did up the amount of cinnamon (you know me) to 3/4 t's. I should mention too that I chose not to use paper liners. Made for SweetTraditions Tag.~
Place dates in a small bowl and add boiling water, let stand 10 minutes (do not drain!).
Meanwhile in a small mixing bowl, beat shortening and sugar until crumbly, about 2 minutes then beat in egg until well mixed.
Add dates and beat on low speed until blended.
Combine the flour, baking powder, baking soda and cinnamon and then stir into date mixture with a wooden spoon just until blended.
Stir in the walnuts.
Fill paper-lined muffin cups two-thirds full.
Bake at 350F for 15-20 minutes or until toothpick comes out clean.
Cool for 5 minutes before removing to wire rack to cool completely.