skat5762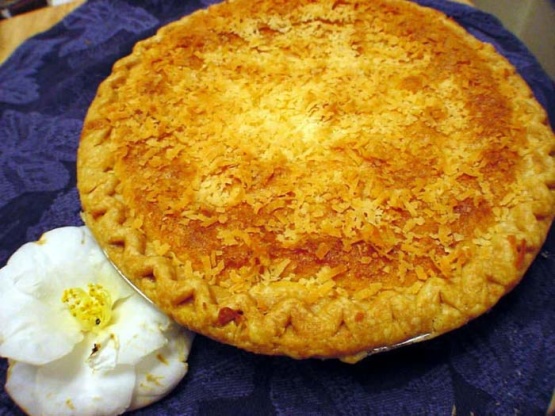 This was Judy Rauch's recipe- my MIL- that was published in Virginia Hospitality.

I feel that I can't rate this because I think I may have used the wrong coconut. I used sweetened coconut and this pie turned out so sweet it was almost inedible. I didn't see unsweetened coconut in my store, but I'm wondering if that's what this recipe requires. Also, even after baking for 1 hr and 20 min, the center never set. The entire pie was extremely jiggly and I kept putting it back in the oven. I ended up doing the knife test after doing some internet research on custard pies, and I finally took it out. It said that the knife should come out "barely clean" and to never overcook custard pie. My pie did set up after it cooled. It would also be helpful to know how much coconut to put on top, because I think I put too much on, as it didn't stick. I would love to try this again, but with some clarification.
Preheat oven to 325-degrees.
Beat eggs and gradually add sugar and salt: beat until thick and lemon colored.
Blend in butter; then flour and milk.
Add coconut and blend.
Spoon into pastry shell and bake for 45 minutes to 1 hour, or until set and slightly browned.
About 15 minutes before finished, sprinkle with remaining coconut.