Judith Comfort's Crispy Oven-Fried Chicken
ImPat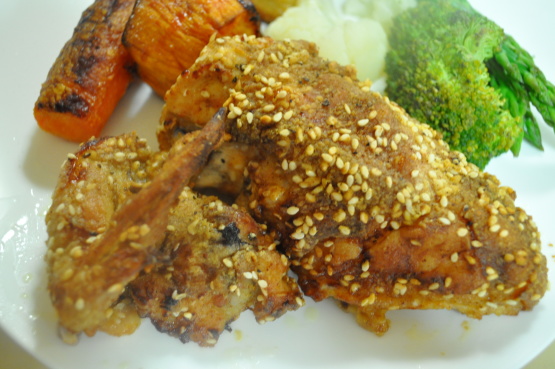 Tastes just like KFC! I don't know who Judith Comfort is, but this recipe is amazing. It's my new favourite - so easy too!

Top Review by ImPat
The ratings around the table ranged from 3 to 5 so we settled for a 4. I quartered a 1.4k chicken and cooked as per recipe - required 1 1/4 hours at 175C fan forced oven to cook fully. The skin was not as crispy as hoped but the chicken was moist and flavourable. An easy meal to put together, served with roasted and steamed vegetables. BTW we don't eat KFC - to be honest have always disliked it so cannot compare but this was better than anything I ever had on the few occasions I did have it. Thank you KatieMcCooksAlot, made for Healthy Choice ABC tag game.
In bowl, whisk together egg and milk.
In large bag, shake together flour, sesame seeds, baking powder, paprika and salt.
Dip chicken pieces, one at a time, into egg mixture; shake chicken in flour mixture.
Place on foil-lined baking sheet; drizzle with butter.
Bake in 350 F (180 C) oven for 1 hour or until chicken is crispy on outside and no longer pink inside.