Jude's Grilled Ham and Egg Sandwich
lazyme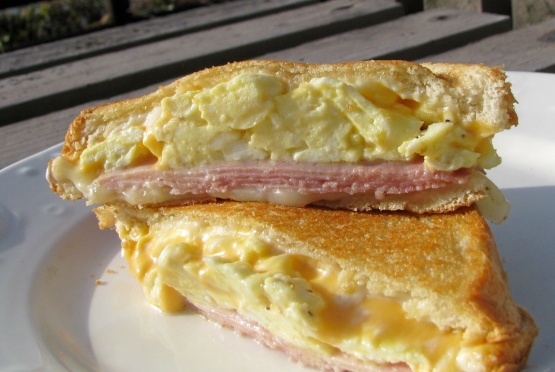 I love this sandwich that is a signature dish at Denney's, Moon Over My Hammy. Like most things, it is much more economical to make at home and even, dare I say, better! I originally grilled this in butter, but after reading Dawnab's recipe for Grilled Cheese Diner Style, I will only grill sandwiches in mayo. You can use whichever you like best. This is great for a Sunday morning breakfast with fresh fruit.

Top Review by ImPat
What a great filling breakfast sandwich this made. I made it using wholemeal/wholegrain bread, a dab of mayo on each slice and then layered it with a slice of vintage cheddar, a slice of lean ham, dried fried egg, slice of lean ham and slice of vintage cheddar, topped with other slice of bread may side down and cooked in the sandwich press - the result a toasty tasty sandwich. Thank you Judedeva and ElaineAnn for recommending, made for I Recommend tag game.
Heat grill or skillet to medium.
Spread one side only of each slice of bread with half of either mayo or butter. Place one slice in skillet spread side down.
Layer Swiss cheese, ham, scrambled egg and American cheese, in order, on plain side of bread in skillet. Top with other slice, spread side up.
Cook for about three minutes or until crispy and brown. Turn and cook until brown and cheese is melted.
As Dawnab advised, if using mayonnaise, do not substitute Miracle Whip, it will not work.
Thanks to Dawnab for her recipe and inspiration in the use of mayo!