Joyfulabode's Super-Creamy Spinach Artichoke Dip
Boomette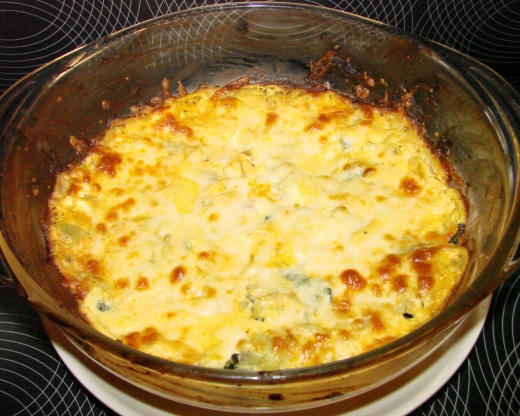 This recipe is very slightly modified from JoyfulAbode.com, one of my favorite blogs (Emily, if you see this, I hope you don't mind - I just want to make it easier to find!). The chili powder is the thing that makes this so much better than any other dip - don't be skimpy, the other creamy ingredients balance it out so it's not spicy.
I made half the recipe cause we're only 2 to eat that. I used plain yogurt instead of sour cream. We found it a bit too vinaigry. Maybe the mayonnaise could me omitted and substituted with more cream cheese or cheese. I used fresh spinach. It was great with tostitos. Thanks mayness :) Made for PAC spring 2011
Preheat oven to 350°F.
Soften cream cheese.
Chop spinach and artichokes if not already chopped.
In a baking dish, mix cream cheese, sour cream, mayonnaise, spinach, artichokes, and 1/4 cup of the mozzarella.
Season with garlic powder, seasoned salt, and chili powder to taste - the amounts above are estimates.
Sprinkle the remaining mozzarella on top.
Bake until heated through, about 30 minutes.
Broil for a minute or so to brown the cheese.
Serve with raw veggies, crackers, tortilla chips, etc.