Joyce's Unbeatable Banana Bread
sbera007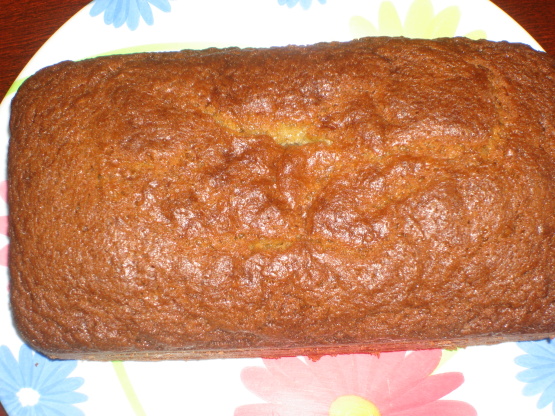 This recipe is so close to my heart. When I was young, I refused to eat my other Grandmother's banana bread because it wasn't like Grandma Joyce's. When I went off to college, my Grandma mailed me a loaf every couple weeks. (I even fell down my dorm stairs one time rushing down to pick up my package containing banana bread.) It has been six years or so since she passed. Now, when I miss her terribly, I bake loaf after loaf of her bread and give it away to share the joy I felt every time I received her special packages.
This is the banana bread we always make. It is absolutely delicious! Every time I try a different recipe, DH can tell--he really prefers this one! I got it from a friend several years ago and have been making it ever since. I use butter flavor Crisco and always add in a generous 1/2 cup pecans. Mine usually has to cook for about an hour at 350. It definitely makes more than 4 servings!
Grease and flour one regular loaf pan or two small loaf pans.
Preheat oven to 350 degrees Fahrenheit.
Combine flour, sugar, salt, baking soda, and shortening. Cut shortening in as for pie crust (I use a pastry blender.).
In a separate bowl, beat eggs and sliced bananas until mixed well.
Add banana mixture to shortening mixture and mix well.
Place batter in prepared pan(s).
Bake approximately 30 minutes.
Tip: I usually use the toothpick test, but the toothpick should not come out completely clean. This is a very moist recipe, so look for the toothpick or knife to be mostly clean. When the bread is done, it will be a dark brown and should have a slight crack down the middle.