Annacia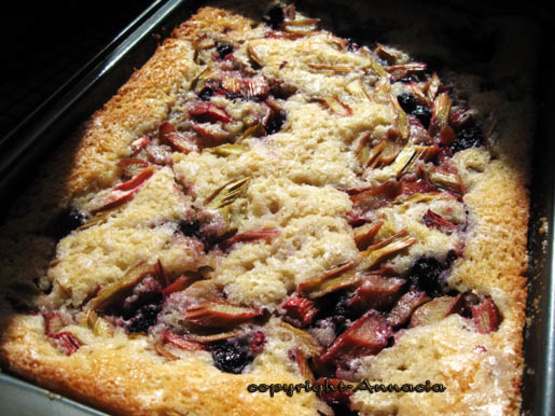 Hubby's comment after eating a big bowl was "Can you make this again so you can give it 10 stars?". Needless to say, it was a super hit. I made a double recipe with 1 1/2 cups of rhubarb and a half cup of berries. I used full sugar in the rhubarb mix but cut the batter back to 1 cup and that was plenty for this house. Oh. I should also mention that the double recipe took almost double the time to bake. This is true old fashioned comfort at it's best, DH has now had two big servings and is wearing a big smile. Thanks for this keeper Dee.
Batter: mix all together and pour into greased 8x10.
Filling : mix everything but boiling water. Pour into batter.
Cover with boiling water.
Bake 325 degrees.
No baking time is given so I'm guessing 25 minutes or until done.